Which books should a budding journalist read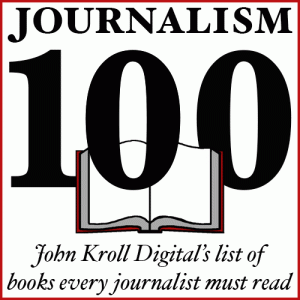 A young journalism student once asked a newspaper editor what she should do to prepare for her hoped-for career as a political reporter. "Read," the editor said. Absolutely, I thought, sitting between them, waiting for my own interview for a top job to resume.
"Read Shakespeare," he said. "And the Bible." Forsooth, I thought, that will not beget much gain. And, I added to myself, my interview is not going to end well.
I have a more mundane view of the must-read journalism books. I've assembled a list that is, if not the absolute best books on journalism, at least all strong contenders. My criteria:
They must be examples of journalism, or about the practice or history of journalism and storytelling.
They should be of long-term value.
They should, in sum, provide the reader with a broad perspective on journalism as a craft and an understanding of key developments.
Those rules explain why most of the books on this list are older; it takes time to prove value. I've tried to represent the digital future, but technical books grow outdated quickly, and the future is so uncertain that I'm hesitant to anoint any  book as prescient. And some books I simply dislike, even though they show up on many lists like this ("The Elements of Style," "On Writing," "The Journalist and the Murderer" and "Personal History"). I've explained my reasons in a separate post. (Also, I'm keeping a post of books that drop off the list.)
This is Version 1.0. I relied largely on my own library, along with recommendations from colleagues and a survey of the many similar lists available online. There are gaps — in my knowledge, and in the capability of the printed word. I include a couple books that provide radio transcripts, but didn't try to provide examples of TV news or documentaries. Please add your suggestions for other books in the comments. Tell me, too, if you have an idea for a better excerpt or "other voice" to illuminate one of the books already on the list. Or talk to me on Twitter, @jkrolldigital; use the hashtag #100jbooks.
---
The African-American Newspaper, Patrick S. Washburn
Long before white Northern reporters discovered racial discrimination during the 1960s, America's black newspapers such as the Chicago Defender were covering the outrages and trying to empower their readers. That history is hard to find. Libraries, for examples, generally didn't save or commit copies of black newspapers to microfilm. Patrick S. Washburn presents the history of the black press from its beginnings in the early 1800s through its declining fortunes at the end of the 20th century.
Other voice: Felix F. Gutierrez, Journalism & Mass Communication Quarterly. "Washburn, who brings more than a quarter-century of research on the black press to the task, helps expand our understanding by writing a highly readable story using a wide range of sources. [The book] demonstrates his eye for identifying interesting tales embedded in a larger story, digging into published and archival materials and interviewing sources, and then finding a way both to tell the tales and illustrate their importance in the larger story."
Operating against a background of continual inequalities for blacks and a white America that routinely, and sometimes fiercely and even illogically, fought the granting of any new rights, black newspapers came to be in the vanguard of the struggle. Because white newspapers virtually refused to cover blacks unless they were athletic stars, entertainers, or criminals, blacks were forced to read their own papers to learn about everyday black life in communities across the country.
Find in my store
Aim for the Heart: Write, Shoot, Report and Produce for TV and Multimedia, Al Tompkins
This revised edition still bears evidence of the original's single-minded focus on TV news, but it's been updated with new content to reflect the importance of online video. What appeals to me is that Al Tompkins emphasizes non-technical issues, helping to keep the advice relevant no matter what new gadgets come along. In particular, he argues that viewers will remember emotions rather than facts. I'm neither completely persuaded nor fully comfortable with the implications. But as a print veteran, I'm open to learning new things. (You may want to watch this 90-minute video of a presentation he gave on writing and storytelling.)
Other voice: Gary Villeneuve, Cheyenne Independent. "Tompkins lays out some basic guidelines in the new version. Firstly, it is an error, he says, to think that 'online news should be the same as what we put on TV but shorter,' or that 'online news should be just like what we put on TV only longer.' Tompkins argues that online news is different from TV or print journalism, but that it can also make stories better, and he champions the potential of the internet to make stories more personal, local, and interactive."
Make me feel the story and I will never forget it. Tell me a load of facts and they will be gone from my memory in seconds.
Find in my store

All the President's Men, Carl Bernstein & Bob Woodward
This is the book that launched a thousand and more journalism careers — the inside story of how two young, hard-working reporters saved the United States from the corruption of Richard Nixon's White House. Or something vaguely like that. Even discounting the exagerrated importance some have bestowed on Woodward & Bernstein, the Post's dogged reporting on Watergate was a high mark of American journalism. And Woodstein's account of how that came to be inspired many students and set a tone for the industry. I considered keeping the book off this list because of questions raised about its fidelity to the truth and because of concerns about the quality of the reporting in Woodward's many later books. However, this is a must-read because of its historical significance.
Other voice:Ben Stein, The American Spectator. "Chutzpah is defined as that quality which allows a person who has just killed his parents to throw himself on the mercy of the court and ask for leniency as an orphan. Bernstein and Woodward had it in spades."
June 17, 1972. Nine o'clock Saturday morning. Early for the telephone. Woodward fumbled for the receiver and snapped awake. The city editor of the Washington Post was on the line. Five men had been arrested earlier that morning in a burglary attempt at Democratic headquarters, carrying photographic equipment and electronic gear. Could he come in?
Find in my store

The Americans, Robert Frank
A journalist coming to "The Americans" may be struck at first at how little information the individual photos seem to convey. Here's a jukebox in an anonymous cafe, its bright colors merely washed-out highlights in the black-and-white shot, with an older couple dimly seen in a booth to the left and someone's sleeve intruding on the frame to the right. Here's another juke, dark and (one imagines) silent amid a sun-splashed cafe with a baby crawling across its rough pine floor. But put "The Americans" alongside Weegee's stark images (in "Naked City," also on this list), and you see certain commonalities. Look through all the images in "The Americans" and a picture of America in the '50s emerges.
Other voice:Tom Cole, NPR. "There are few single works of art that have changed the direction of their medium. In 1959, one book dramatically altered how photographers looked through their viewfinders and the way Americans saw themselves."
Robert Frank, Parade – Hoboken, New Jersey, 1955. Private Collection, San Francisco
Find in my store

American Way of Death Revisited, Jessica Mitford
I have read and reread all of Jessica Mitford's books (including her delightful autobiography), but "The American Way of Death" is her best. She pursued the topic for long years, immersing herself in trade journals and interviewing scores of those in the know. The book indicts the death industry (that is, funeral parlors and merchants of post-mortem accoutrements), but Mitford retains a wry sense of humor that keeps this from being a polemic. After you read this book, realize that until it came out, most of the details in it were invisible to people outside the industry — hidden in plain sight. And yet most Americans have had some encounter with funeral parlors, cemeteries or such. Investigative journalism tends to be spurred by public incidents, by whistleblowers, by a reporter noticing something out of the ordinary. Mitford, instead, focused her reporting on something very ordinary, yet mysterious.
Other voice:Bess Lovejoy, Lapham's Quarterly. "Though Jessica wrote ten books, mostly memoir and muckraking nonfiction, The American Way of Death is her most famous, and probably the best-known book about death published in the twentieth century. The entire first print run of twenty thousand copies sold out the day the book was released, and it stayed on bestseller lists for six weeks. It's still routinely assigned in classrooms as an example of crisp prose, biting satire, and a fearless approach to a difficult subject."
No matter what the more gullible customers may be led to believe about eternal preservation in the privacy of the arrangements room conference, undertakers do not try to mislead the serious investigator about this. They will generally admit quite readily that their handiwork is not even intended to be permanent.
Find in my store
And So it Goes: Adventures in Television, Linda Ellerbee
Unlike many of the older journalists featured on this list, Linda Ellerbee may be very familiar to today's college students — she's that woman in the brightly colored sneakers on "Nick News with Linda Ellerbee," and she has been since 1992. But before that she was Linda Ellerbee of NBC, and most notably of "NBC News Overnight." Tucked away in the dark hours, she had full rein to demonstrate her intelligence, sparkling writing and sardonic charm. The duPont-Columbia awards, honoring the show in 1984, called it ""conceivably the best written and most intelligent news program ever." And so, naturally, the show was cancelled. "And So It Goes," published in 1986, looks back at her years in broadcast journalism. There were other female pioneers who have written about the sexism of the industry, but none as wittily as Ellerbee.
Other voice:Nicole Hollander, New York Times. "In the chapter about women in television, Miss Ellerbee tells who they are, how they got their jobs (over the pained protests of almost every man in the business), why they are so rarely in management and why they are never ugly. We're reminded that women used to be recruited from the land of print journalism rather than from Miss Artichoke pageants and that without those hardy pioneers, things would not be as good as they are, which is to say, pretty dismal."
I was fired only because the AP's legal department told them it was absolutely against the law to shoot me, no matter how good an idea it might be. What was an embarrassment to me was funny to many other people, and some of them had jobs to offer.
Find on Biblio.com
Awake in the Dark: The Best of Roger Ebert, Roger Ebert
If this list seems to have a preponderance of Chicago journalism, that's not only because I'm from the city but also because it has been uniquely gifted with talent. No disrespect to Pauline Kael and other top film reviewers, but Roger Ebert is the pinnacle. This collection is the best single source because it combines all his talents — not only his reviews but also his interviews and essays. Ebert was a sophisticate, who could write an entire book about "The Perfect London Walk," but also a guy whose would review a children's movie by using the Thunder Index (a measure of the noise kids whilst ignoring the screen). He could champion an art film and conduct interviews that reached the heart of the acting art, but also write the screenplay for "Beyond the Valley of the Dolls." He was a movie critic, but wrote about politics. He came of age in the print era, but enthusiastically embraced the digital world as a blogger. He was even nice to his copy editors. I know; I briefly was one. "Awake in the Dark" will give you an overview of his work. I hope it will inspire you to pick up more of his books, including his searingly honest autobiography, "Life Itself."
Other voice:Douglas Martin, in Ebert's New York Times obituary. "It would not be a stretch to say that Mr. Ebert was the best-known film reviewer of his generation, and one of the most trusted. The force and grace of his opinions propelled film criticism into the mainstream of American culture. Not only did he advise moviegoers about what to see, but also how to think about what they saw."
'Oh, I guess I've been asked often enough when I'm going to get around to playing a bad guy,' [Jimmy Stewart] said at last. 'I never have. Seems like everyone else has taken the plung. John Wayne. Henry fonda.' He took another pause, and you could see the grin beginning around his eyes. It was a slow grin that took its time working around to the rest of his face. The Stewart grin.
Find in my store
The Best American Sports Writing of the Century, David Halberstam (ed.)
This is a book to be kept on the bedside table (or bathroom counter) and dipped into from time to time. And, if need be, thrown with great force at a burglar creeping into your bedroom; it's enough to take down the meanest thug. Crammed with about 60 pieces, from short columns to lengthy features, it's hefty literally and figuratively. David Halberstam's selections are wise and varied enough to bring you John Updike and Grantland Rice, Frank Deford and Hunter S. Thompson. A favorite of mine is Richard Ben Cramer's "What Do You Think of Ted Williams Now?", excerpted below. The retired baseball hero's life story is told in all its bitterness. For some reason, the best sports writing — not just columns, but features and game reports — doesn't seem as affected by time as straight news. Maybe that's because sports don't mean as much, so the topic doesn't carry with it the stench of history textbooks. Or maybe it's because we put so much meaning into sports, making its contests into our legends and its players into our heroes.
Other voice:Michael Anft, Baltimore City Paper. "The difference between good sportswriting and its overwrought counterpart lies in its practitioners' ability to hit the equivalent of the literary curve ball—that is, tell a story simply and eloquently, and with no overarching swings at morality or hero worship."
The Red Sox gave him a single room and barred the press from the clubhouse for two hours before every game. But it wasn't outside annoyance that was fueling Ted's rage. He'd wake up in the middle of the night, screaming obscenities in the dark. … There were plenty of women who would have loved to help. But Ted would say 'WOMEN?' and then he'd grab his crotch. 'ALL THEY WANT IS WHAT I GOT RIGHT HERE.'
Find in my store
The Best of I.F. Stone, I.F. Stone
News stories reported for periodicals have a rough time surviving the transition to books. Their topics fade from memory and the writing is rarely sharp enough to blow off the dust. But you must read this (or some other) collection from I.F. Stone's Weekly and some of his other writing. From 1953 through 1971, the newsletter was almost entirely the product of its editor. His politics were radical; in the '20s he had been a member of the Socialist Party. He left the party because he thought a journalist should be free of such ties, able to report critically on anyone. He's best known for his investigative journalism, most often developed by digging deeply into obscure government publications and data. Though his weekly's circulation was never large, it supported him (without advertising!) and his reporting was highly influential. It must be noted that after his death, it was revealed that he had a relationship of some sort with the Soviet Union's KGB. Stone never made a secret of his opinions, but (as his praise for Stalin in 1953 indicates) at the very least, his critical faculties could be dimmed when he was looking to the left. (You can go straight to the source and read the whole run of the weekly at the the official I.F. Stone site.)
Other voice:Paul Berman, New York Times. "The relevance to our own time is hard to escape, given our own recent experiences with disastrous policies, official mendacities and a sometimes error-prone and manipulated press. To read Stone's description of clueless Americans wandering around Saigon in 1966, reprinted in 'The Best of I. F. Stone,' is to plunge into glum reflections on the Green Zone of Baghdad, 40 years later."
Even in wartime, reprisals are supposed to be kept within narrow limits. Hackworth's Digest, the State Department's huge Talmud of international law, quotes an old War Department manual, Rules of Land Warfare, as authoritative on the subject. This says reprisals are never to be taken 'merely for revenge' but 'only as an unavoidable last resort' to 'enforce the recognized rules of civilized warfare.' Even then reprisals 'should not be excessive or exceed the degree of violence committed by the enemy.' These were the principles we applied at the Nuremberg trials. Our reprisal raids on North Vietnam hardly conformed to these standards.
Find free online (PDF)
---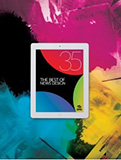 Best of News Design annuals
For most of the last century, newspaper design was a formulaic art. There were many books describing headline styles, types of subheads and other arcana. They provided reproductions of "proper" newspaper pages, which all managed to seem alike despite coming from varied cities. With the news squarely forced into rigid columns and design in the hands of overworked copy editors, progress was slow. Somewhere around the '80s or '90s, though, design became increasingly the turf of actual designers. The old guidebooks were quickly left behind. The Society for Newspaper Design was a key factor in the revolution. It lives on as the Society for News Design, and its annual catalogs of award-winning design provide great inspiration. You don't have to get the latest edition; you can find older ones at the SND  online store, or by haunting used bookstores. Each edition is stuffed with design examples. SND is one of the Oprah Winfreys of the journalism contest world; you get an award and you get an award and you get an award! That magnificently magnanimous attitude does, however, lead to annuals that provide hundreds of design examples.
Other voice:Embody 3D, in a review of the 34th edition. "As usual the graphics, presentation and quality is top notch. The quality of articles and designs just seems to get better and better each year. For those in the field designing, this beautiful creations this is surely a book not to be missed. Likewise enthusiasts of newspapers, and there's a lot of them, will also find this book very entertaining. Although it is a news design book there is no reason why elements of these designs [cannot] be put into a wide range of mixed media."

Pages from the 33rd edition of SND's Best of News Design. (Original at Parka Blogs)
Find on SND store
About Author
John Kroll
John Kroll is a digital journalist and educator (currently teaching at Kent State University) with experience in editing, coaching, content creation and management. He holds a master's degree in education and a bachelor's in journalism. In various roles at The (Cleveland) Plain Dealer, including Online Editor, he developed a training program that introduced a newsroom of about 200 reporters, photographers, artists and others to SEO, iterative journalism, multimedia and more. Previously, as an editor, he led award-winning projects including 18-month coverage of the bankruptcy of LTV Steel and an examination of America's retirement funding crisis. Contact him at john [at] johnkrolldigital [dot] com.